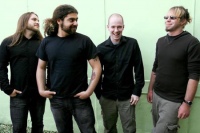 06-08-2011.
11:48.
Coheed And Cambria se sépare de Michael Todd
Sans doute suite à son arrestation et son incarcération pour le braquage d'une pharmacie le mois dernier,

Michael Todd

a été remercié par son ex-groupe, Coheed And Cambria.

Le groupe explique rester en bons termes avec Todd mais la décision mutuelle est sans doute plus mutuelle d'un côté que de l'autre.

Coheed And Cambria est actuellement occupé à écrire de nouveaux morceaux pour un prochain album.

Erik

06-08-2011