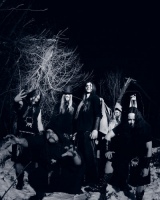 02-07-2012.
22:25.
Finntroll bosse sur son 6ème album
Le groupe de folk metal finlandais Finntroll a annoncé sur son site qu'il bossait actuellement sur son 6ème album. L'entrée en studio est prévue pour le mois de novembre.

"Finntroll to enter Sonic Pump.

Finntroll will enter Sonic Pump to record their 6th full length album. Studio is set to start on later half of November. Album that will yet remain unamed will be released worldwide through Century Media.

"So far we have pretty much half of the material ready for the upcoming album, so there's still a lot of work to do before we enter studio. We are very excited about new material and we believe fans will be too when they get their hands on this new stuff. And on this point we're still talking only about the demo versions of the songs. Can't wait to get to studio and hear how the songs takes their first breaths and actually come alive." Says Routa.

Release date and additional info will follow."


DNK

02-07-2012