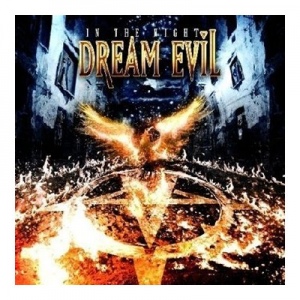 DREAM EVIL
In The Night
Label : Century Media
Dream Evil n'est autre que le groupe du fameux producteur Fredrik Nordström qui se recommande tout de même de quelques solides productions auprès de certains fleurons du metal que sont Opeth, Firewind, Arch Enemy, In Flames, ...

Ici, Fredrik a troqué sa console pour la guitare. Et visiblement, il s'éclate au sein de ce groupe qui, à la façon d'un

Spinal Tap

, rassemble tous les clichés du metal pour les exploiter de manière assez dérisoire.

Il suffit de se pencher sur les textes pour se rendre compte des thèmes abordés avec un certain humour. Attention, aucune moquerie n'est à percevoir dans cette démarche plutôt ludique que loufoque. A prendre donc au second degré...

Alors oui, on ne dénombre pas le nombre de fois que les Suédois utilisent les mots "leather", "metal", "fire" ou "steel". A en faire pâlir

Manowar

de jalousie...

Mais les musiciens, au look ringard et aux patronymes ridicules, se revendiquent d'ailleurs être des enfants de la scène heavy metal et les nombreuses références à Judas Priest, Primal Fear ou Helloween sont indéniables.

Les titres "

Bang Your Head

" et "

See The Light

" sont très directes et élaborées autour de riffs efficaces.

Les douze compositions se déclinent sur un rythme effréné et on se plait à souffler sur la bien-nommée "

The Ballad

".

Certes, cet album manque de la plus élémentaire originalité puisqu'il se réfère au metal des années '80. Il n'empêche que la production est exempte de tout reproche et la musique est d'excellente facture. Pas étionnant que le guitariste Gus G. (Ozzy Osbourne, Firewind) ait été, par le passé, de l'aventure...

En fait, Dream Evil, c'est la preuve par l'absurde que le mouvement metal dans sa globalité dépasse allègrement les clichés et possède bien plus de ressources et de trésors que certains esprits chagrins lui vouent sans cesse.

On appelle cela de l'auto-dérision. Et ça marche! Car plutôt que de se prendre la tête, les Suédois nous la secouent. Finalement, n'est-ce pas cela le plus important?


Deby

24-01-2010