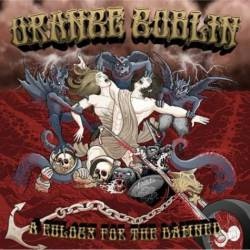 ORANGE GOBLIN
A Eulogy for the damned
Label : Candlelight Records

Tags : orange goblin, stoner, A Eulogy for the damned
Après seize années d'existence et cinq de silence, les londoniens de Orange Goblin reviennent en puissance avec leur septième album studio, le premier sur

Candlelight Records

. Dans la continuité de son dernier opus (

Healing Through Fire

– 2007), le quatuor nous assomme avec un rock heavy qui garde cependant de sérieux stigmates de stoner en guise de piqure de rappel des origines premières du groupe !




A Eulogy for the damned

commence en force avec « Red Tide Rising », un titre complètement épique aux riffs surpuissants qui rappellent les origines communes que Orange Goblin partage avec Motörhead ! D'ailleurs la voix de Ben Ward, plus en forme que jamais, s'inscrit dans la droite ligne des voix rocailleuses et graves à la sauce Lemmy Kilmister. Le ton est donné directement.

En cinq ans, le groupe a fait le plein d'énergie et conduit les dix morceaux présents sur l'album avec le pied écrasé au planché ! Seule différence par rapport aux réalisations passées : un son plus modelé. En passant dans une grosse écurie comme

Candlelight Records

, le groupe a effacé les petites impuretés qu'on pouvait trouver sur les albums précédents auxquelles on pouvait trouver un certain charme. Fini l'impro, place à un son pur et masterisé.

Plus encore que sur l'album précédent, Orange Goblin se rapproche de sonorités ricaines qui pourraient sortir tout droit d'un disque de

Corrosion of Conformity

ou voire même de

Zakk Wylde

, tant la rythmique des morceaux se rapproche de la marque de fabrique de certains groupes made in US !

Mais ne nous méprenons pas, même si on pourrait leur donner des origines outre-atlantiques, Orange Goblin nous vient bien de Grande Bretagne ! Le groupe nous le rappelle en nous offrants de dignes moments stoner - heavy comme sur « Return to Mars » ou sur « The Bishops Wolf ».

En conclusion Orange Goblin nous revient en force et nous pond un excellent album de stoner à écouter fenêtres ouvertes, volume à fond!

Peps

06-05-2012