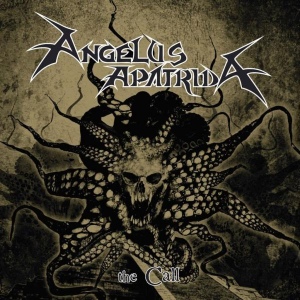 ANGELUS APATRIDA
The Call
Label : Century Media

Tags : angelus apatrida, the call, megadeth, slayer, espagne, thrash, metal

Date de sortie : 30-04-2012
Pour ma part inconnu au bataillon, Angelus Apatrida, groupe espagnol de thrash metal, en est pourtant à son quatrième album. Après la sortie de

Clockwork

en 2010, voilà que les Ibériques pondent

The Call

, leur deuxième rondelle à sortir chez

Century Media

. L'album, dans tout ce qui a de purement thrash, se révèle être un petit brûlot qui s'écoute en moins de temps qu'il ne faut pour le chroniquer!

Fondamentalement, Angelus Apatrida n'apporte rien de neuf au style déjà bien usé et utilisé par bon nombre de groupes. La principale force de ce combo originaire du sud-est de l'Espagne réside tout simplement dans la qualité des morceaux. On ne s'ennuie sur aucun des dix titres présents sur le disque et, pour du thrash, c'est déjà pas mal du tout!

Entre un Megadeth à ses débuts et l'énergie d'un groupe comme Slayer, Angelus Apatrida se fait sa petite identité et ne doit pas rougir du niveau que le groupe semble avoir atteint. Si

The Call

comporte toute la dose d'agressivité que doit avoir un album de thrash, il n'en est pas moins technique vu le nombre de soli très heavy que l'on peut entendre tout au long de ses dix plages.

Certains titres sortent même du lot à commencer par les morceaux de début et de fin:

"You are next"

et

"Reborn"

. Du côté des gommettes vertes, on peut encore en distribuer une à

"At The Gates Of Hell"

qui respecte une pure tradition "Slayerienne" ainsi qu'au très bon

"Fresh Pleasure"

auquel on peut trouver un petit côté hardcore.

En conclusion Angelus Apatrida nous donne ici une énorme dose d'énergie à travers un album rondement mené. Celui-ci leur fera office, sans aucun doute, de sérieuse carte de visite lors de leurs tournées futures.

Peps

06-06-2012