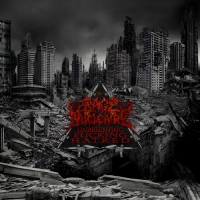 12-09-2012.
07:08.
Un extrait du premier album de Rage Nucléaire
Rage Nucléaire

(nouveau groupe de Lord Worm, ex-frontman de Cryptopsy) sortiront leur premier album,

Unrelenting Fucking Hatred

, le 19 octobre via Season of Mist .



Tracklist

:
01. Violence Is Golden
02. Hunt with Murderworms, Sculpt with Flies
03. The Gift of the Furnace
04. Fields of the Crucified
05. Endziel
06. The Sorrow Children at Mourningside
07. 30 Seconds in the Killhouse
08. Unrelenting Fucking Hatred
09. The Gallows and the Black Coffin
10. The Feeding Habits of Homo Horriblis

Le morceau

Violence Is Golden

s'écoute dans le Media Player de la page Facebook du label.

Elodie

12-09-2012