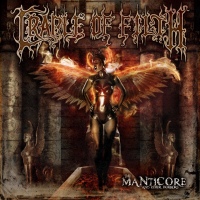 12-09-2012.
08:18.
Plus d'infos sur le prochain Cradle of Filth
Le dixième album de Cradle of Filth,

The Manticore and Other Horrors

, sortira le 31 octobre via Peaceville Records .



Tracklist

:
1. The Unveiling of O
2. The Abhorrent
3. For Your Vulgar Delectation
4. Illicitus
5. Manticore
6. Frost on Her Pillow
7. Huge Onyx Wings Behind Despair
8. Pallid Reflection
9. Siding with the Titans
10. Succumb to This
11. Nightmares of an Ether Drinker
12. Death, The Great Adventure (bonus digipack)
13. Sinfonia (bonus digipack)

Cradle of Filth joueront avec Rotting Christ, God Seed et

Blynd

le 18 décembre au Coliseum de Charleroi.

Elodie

12-09-2012